Moto Guzzi MGS-01 Corsa Статья из журнала Moto №10 – 03
Moto Guzzi
Клуб любителей мотоциклов компании Moto Guzzi
Администраторы (1)
Модераторы (0)
Читатели (251)
Moto Guzzi → Обзор мотоцикла Moto Guzzi MGS-01 Corsa (2004-2010)
Компания Moto Guzzi имеет великую гоночную историю и множество побед. За всё время Мото Гуцци выиграли 3 329 официальных гонок Гран При, 8 мировых чемпионатов, 6 кубков конструкторов и 11 гонок Tourist Trophy на острове Мэн. Впечатляет.
Жаль, что в наши дни Moto Guzzi придерживаются своих «корней» и уже давно покинули арену мотоспорта. Тем не менее, в 21 веке они выпускают уникальный спортивный мотоцикл Moto Guzzi MGS-01 Corsa. Он совмещает в себе агрессивный дизайн и классический для марки Moto Guzzi V-образный двигатель поперечного расположения.
Двигатель мотоцикла Moto Guzzi MGS-01 Corsa похож на старинную вещь, которая была отличительной чертой итальянской марки в течение многих десятилетий. Но мотор обновлен новыми технологиями и производит внушительные рабочие характеристики: мощность 121 л.с. и крутящий момент 112,5 Нм. У мотоцикла Moto Guzzi MGS-01 Corsa есть несколько недостатков, которые мешают ему быть истинным бойцом на треке. Во-первых, отсутствует полный обтекатель, во-вторых, он весит целых 192 кг на свои 121 л.с. В то же самое время подвеска Ohlins и короткая колесная база подчеркивают, что мотоцикл способен ездить быстро и проворно. Также стоит отметить надежный и долговечный карданный вал.
Основная проблема мотоцикла Moto Guzzi MGS-01 Corsa — очень низкий уровень продаж из-за невероятно высокой цены. В Европе байк стоит порядка 26 000 евро и выпускается ограниченным числом. Найти владельца такого мотоцикла крайне сложно.
• Максимальная скорость: 255 км/ч
• Мощность: 121 л.с.
• Крутящий момент: 112.5 Нм
• Вес: 192 кг
• Высота по седлу: 820 мм
• Топливный бак: 18 литров
• Средний расход топлива: 6.3 литра на 100 км
• Двигатель: 1225 см3, V-Twin
• Рама: трубчатая, стальная
• Подвеска: полная регулировка к предварительной нагрузке, на сжатие и восстановление; регулировка к высокой и низкой скорости; регулировка высоты по седлу
• Передний тормоз: два диска 320 мм
• Задний тормоз: диск 282 мм
• Переднее колесо: 120/70 x 17
• Заднее колесо: 180/55 x 17
MOTO GUZZI MGS-01 Corsa
Nessuno si aspettava di vedere una superbike con l'aquila sul serbatoio, men che meno così bella e aggressiva. I complimenti si sprecavano, gli elogi alla bellezza poi non ne parliamo, ma gli scettici sulla sua commercializzazione purtroppo erano tanti.
Si ma è un prototipo…non è marciante…ma verrà prodotta?….sì ma quando?
La risposta è giunta anch'essa, come era accaduto per la sua presentazione, di sorpresa.
Fine giugno: sulla pista di Adria c'è una moto dal rumore a dir poco coinvolgente, tutta rossa e con un' aquila sul serbatoio che macina giri su giri. Pochi dubbi, è lei.
Non è la versione stradale, ma quella dedicata alle corse, però il miracolo è avvenuto e finalmente si rivede una Moto Guzzi supersport, ufficiale, calcare la pista. La versione stradale arriverà più avanti, ma il primo passo (e lasciatemi dire "che passo") è stato fatto.
Esteticamente poco è cambiato rispetto alla moto presentata a Monaco e sviluppata da Ghezzi e Brian in collaborazione con il centro stile Moto Guzzi. Le sovrastrutture sono ridotte al minimo indispensabile, lasciando ben in vista il bicilindrico di Mandello, che almeno stilisticamente ricopre la parte del protagonista.
Il cupolino, affilato e tagliente, incorpora una presa d'aria, al posto del faro che verrà montato sulla versione stradale, che gli conferisce uno "sguardo" aggressivo. Il bel serbatoio, dalle forme tornite, si accoppia stilisticamente allo slanciato codone monoposto che in questa versione "corsa" è dotato di una presa d'aria, posizionata dove molto probabilmente nella versione stradale verrà sistemata la sella passeggero.
Tecnicamente la ciclistica vanta le novità più interessanti e mette sul banco un telaio scatolato in acciaio con un bella forcella a steli rovesciati Ohlins da 43 mm, accoppiata ad un forcellone scatolato in alluminio altrettanto bello, "controllato" nei suoi movimenti da un mono Ohlins.
Proprio nel forcellone sono racchiuse le novità più interessanti della ciclistica della MGS-01. Infatti, date le misure non proprio XS del bicilindrico di Mandello con relativo cambio, i forcelloni delle Guzzi fino ad oggi risultavano estremamente corti e privi della possibilità di dotarli di leveraggi progressivi.
La soluzione è venuta infulcrando nel carter del cambio, l'attacco del forcellone che ha visto così aumentare in lunghezza le proprie dimensioni, migliorando le caratteristiche di guida della MGS ed ottenendo lo spazio necessario per i cinematismi della sospensione posteriore. Tutto questo, mantenendo un interasse di soli 1.423 mm, misura assolutamente in linea con le migliori sportive attualmente sul mercato.
Il peso, pur senza l'utilizzo di materiali pregiatissimi (magnesio e titanio per esempio) e pur non essendo da record, si blocca sul filo dei 192 Kg, risultato tutt'altro che da disprezzare, anche considerando la distribuzione, pari ad un bel 50% sull'avantreno ed un altro 50% che si scarica sul retrotreno.
Il motore della MGS-01 è il redivivo quattro valvole che in questa prima versione da 1.225 cc vede erogare 122 CV (i tecnici ci hanno promesso che diventeranno presto 130) a 8.000 giri, con la bellezza di 11,5 Kgm di coppia a 6.400 giri, ma il valore più stupefacente sono i 9 Kgm disponibili a soli 2.800 giri!
Naturalmente la versione stradale, sarà leggermente ridimensionata a causa, soprattutto, delle normative sul rumore.
Da sottolineare la presenza di un impianto frenante con i fiocchi, essendo la MGS fornita di due dischi da 320 mm con pinze radiali all'avantreno, e di un disco singolo da 220 mm al posteriore.
Dopo una serie di raccomandazioni, gesti scaramantici e preghiere varie da parte dei responsabili (la MGS-01 per la prova in pista era una sola…) finalmente salgo in sella.
La posizione di guida non è assolutamente scomoda, considerando la destinazione pistaiola della Guzzona. Unico appunto per le pedane che risultano un pelo larghe (i collettori da qualche parte devono pur passare…) ed un filo basse (modifica già pronta nel cassetto, ci fanno sapere i tecnici).
Accensione con il classico pulsante, ed ecco che si scatena la tempesta. Se al minimo il rumore è veramente coinvolgente, non appena si danno due colpetti all'acceleratore…cresce la libidine.
Prima inserita e via.
Il motore di Mandello spinge forte, non da subito, ma da "prima", i Kgm scritti sulla scheda tecnica ci sono proprio tutti e sono di qualità. La strumentazione a cristalli liquidi, mi avverte che è ora di cambiare, attraverso una seria di spie che si accendono all'approssimarsi del fuorigiri. Ogni cambio marcia corrisponde ad una fiondata, tale è il tiro di questo motore. La trasmissione non è il massimo per rapidità e precisione, ma bisogna tener conto che questa moto è un prototipo, e che per di più è da due giorni che gira a manetta in pista, in mano a dei "disgraziati"
Il coppione a disposizione, comunque, rende l'uso del cambio meno necessario che con altre moto e consente alla sportiva di Mandello di affrontare le curve anche con un rapporto in più inserito.
In inserimento, insistendo con i freni fin dentro la curva, la moto è restia ad entrare in traiettoria, ma non appena si smette di frenare, ecco che la MGS tende a cadere in modo brusco (ma non pericoloso…) fino a quando non si inizia a pelare il gas. Tutto ciò, considerando il peso di questa moto, è lodevole.
I tecnici ci fanno sapere che sono già previste delle modifiche alla ciclistica, sia a livello di avancorsa che di inclinazione del cannotto di sterzo che renderanno più guidabile la MGS-01. Certo è che il lavoro svolto sin qui, è veramente di qualità, tanto di cappello a chi ha partecipato allo sviluppo di questa sportiva.
I giri a disposizione, purtroppo sono finiti (sigh! proprio quando iniziavo a divertirmi…) e devo rientrare ai box. A questo punto non vedo l'ora di provare la versione con gli aggiornamenti, o magari la versione stradale!
Quest'ultima è prevista per la fine del 2004, mentre la produzione della versione corsa, sarà disponibile a partire dall'inizio dell'anno prossimo.
Popolo Guzzista (e non), abbiate ancora un pochino di pazienza…
Moto Guzzi MGS-01 Corsa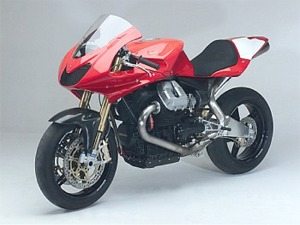 Moto Guzzi North America will be offering 50 MGS-01 "Corsa" track ready motorcycles to the US market later this year. A street or "Series" version is expected to follow in the 3rd quarter of 2004.
The MGS-01 Corsa comes to life from the imagination of the famous Moto Guzzi Style Laboratory.
In early 2002, with the renovation of Moto Guzzi world-wide already underway, Moto Guzzi began to develop a new range of modern, agile, sport motorcycles that would embody all the rich racing history and spirit of the famous brand from Mandello del Lario.
The creative team of esteemed motorcycle designers Ghezzi and Brian, with the full backing of Moto Guzzi brought the initial concepts from the Moto Guzzi "Style Laboratory" to life.

Unleashed creativity breeds the MGS-01 Corsa, a Moto Guzzi with the ultimate sporting temperament. With a two-year goal from concept to the street, the designers decided to work with the existing 4 valve V-twin power plant developed for the Centauro.

The new Corsa racing engine has chrome cylinder walls, Cosworth triple ring racing pistons, and (31 mm exhaust, 36 mm intake) nymonic valves. A special lubrication system that sprays oil under the pistons for greater reduction of friction was incorporated.
The hands-down choice for the transmission was the current V11's road-tested six-speed gearbox and shaft drive. The use of

a new sintering double disc hydraulic drive clutch was necessary to handle the massive power output of the new engine.
To keep the overall weight down, lightweight components like the new 19.5" (495 mm) aluminum box section swing arm and rising rate linkages were created.
The entire one-piece carbon fiber body design can be removed quickly and easily for ease of maintenance. Ohlins suspension and a rigid rectangular single spar steel frame gives the MGS-01 its impressive agility.
In keeping with the goal of being lightweight and agile, the standard gearbox was redesigned and turned into a structural component to keep the wheelbase to 56" (1423 mm) maximum.
With the short wheelbase, perfect weight distribution between both wheels and weighting in at less than 423 lbs (192 kg), the MGS-01's overall stunning aerodynamic design ensures perfect agility and performance on and off the race track.
Moto Guzzi MGS-01 Corsa Статья из журнала Moto №10 – 03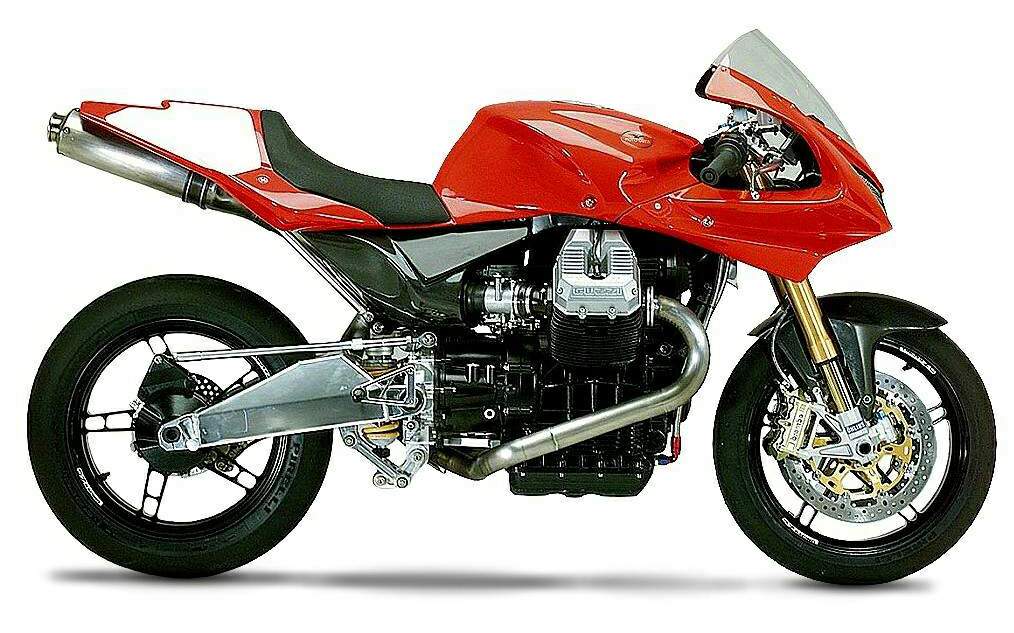 Winning designs are not born by accident. Behind the sleek lines of the MGS-01 Corsa are strategic decisions, a gradual development process and above all the desire to explore the potential of the Moto Guzzi all the way, without limits. Going back through the stages leading up to production of this model means following, step by step, the transformation of a dream into reality.
The "Style Laboratory" was set up at the beginning of 2002 as a training ground to put the skills and creativity of famous designers, planners and preparers such as Ghezzi & Brian to the test with the aim of designing motorcycles with modern style and technology, but unmistakably Moto Guzzi. All the company's technological and human resources were made available for the challenge which showed all signs of being both difficult and thrilling. The deadlines were concrete: the models designed, if agreed, must be ready to go into production within two years at most. The technical starting point was the four-valve twin of the Centauro and the six speed box of the V11, for the first time working together.
To say that Ghezzi & Brian had little time to "give birth" to their creature would not be wrong, given that they had less than nine months, from February to November, to present the show-bike at Intermot in Munich. The ideas were very clear. It must be simple, without frills, "pure". Go back to the very essence of the motorcycle, be easy to ride and have a number of elements such as the exposed mechanics and shaft drive which would communicate the personality of the bike immediately. From a technical point of view, attention was concentrated on ridability and handling. Short wheelbase, excellent balance and racing mechanics were the parameters on which work began immediately and with great enthusiasm.
The prototype had an original and aggressive design, sleek lines and a decidedly sporting temperament in an ultra-modern interpretation of the Moto Guzzi spirit in which the lines reflect the technical characteristics of a bike able to transmit strong emotions. The use of lightweight components such as a swinging fork swingarm in box-type aluminium enabled the weight to be kept down. This lightness, together with the rigidity of the rectangular cross-section steel single spar frame and high performance Цhlins suspension, gives this bike extraordinary handling. The challenge had taken shape. All that remained was to await the judgement of the motorcycling public and press.
The most admired at Intermot 2002.
At Intermot 2002 the MGS-01 made its debut in society. The stand where the bike was displayed became one of the main attractions at the exhibition. The public was enthusiastic. Press reports were flattering. Articles on the bike started to flow into motorcycling sites, praising the beauty of the new Moto Guzzi to an extent that surprised even the design team. Market research commissioned by Moto Guzzi and carried out by CSM International showed that potential sports motorcycle buyers held the MGS-01's styling in great esteem.
This was the stimulus to go ahead – also because customers and dealers wanted the motorcycle to go into mass production as soon as possible. The public and motorcycling enthusiasts submerged the Mandello del Lario company with thousands of requests. All that was left was to decide the technical specifications. The MGS-01 Corsa has more than just breathtaking lines. It is driven by a powerful air-cooled 1,256 cc four-stroke with four valves in Nymonic, with high compression three-segment Cosworth pistons, ceramic-coated cylinders and bushings replaced with bearings.
The power of the engine, which "pumps" right from the lowest revs, is backed by top standard mechanics. Precise entry into bends and road holding are guaranteed by the Цhlins upside-down fork. At the rear, there is an extra long swinging fork swingarm (505 mm) in box section aluminium, improving the traction of the rear wheel and transmitting all the horsepower of the MGS-01 Corsa to the ground. The rear single shock absorber is in a vertical position, just behind the engine, to leave room for the 15 Litres airbox.
Handling is guaranteed by the weight, kept down to just 192 kg, the wheelbase measuring just 1,428 mm, obtained by integrating the gearbox in the timing case, and the ideal weight distribution with a difference of just 200 g between front and back. The Brembo disc brakes with radial mounted callipers are ultra-powerful. Those who have had an opportunity to ride the MGS-01 Corsa confirm that this time appearances are not deceptive.
Project development times.
The project is divided into two phases: A limited series non homologated – for racing use with 122 HP power kit; and the fully homologated production MGS-01 Serie.
Passion as a mission.
The MGS-01 Corsa is a motorcycle with a sporting temperament. It is also a machine dedicated to all riders who love and understand motorcycling, not an over-tuned mass of technology for a limited few. The MGS-01 nevertheless has tremendous competition potential and could well dominate events like the American AMA Championship. A type of race which could also attract an enthusiastic following in Italy too.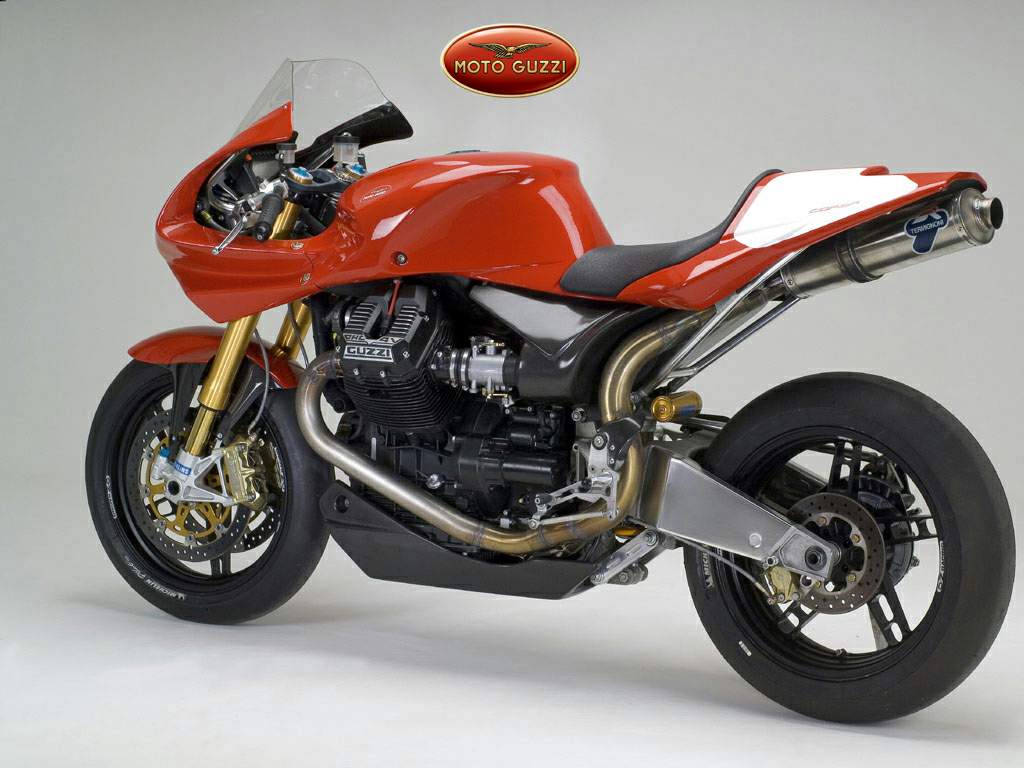 Moto Guzzi shocked everyone at last September's Munich Show with the stylish and sporty MGS-01 prototype. Nine months later, it's positively amazing to be carving around Northern Italy's Adria circuit on the only running MGS-01 in the world. While street-legal versions won't arrive until the end of next year, Guzzi will roll out a handful of these production racers in early 2004.
One look says this massive air-cooled, shaft-driven, transverse V-twin–surrounded by elegantly curved bodywork and a first-class chassis–could only come from Moto Guzzi. That's exactly what Guzzi boss Roberto Brovazzo wants us to think. "The best way to boost the marque," he says, "was with a new bike that maintains the Guzzi engine layout and characteristics." To do that, he recruited Italian Guzzi specialists Ghezzi & Brian (www.ghezzi-brian.com), and put co-founder Giuseppe Ghezzi in charge of the five-man MGS-01 design team. In case you're wondering, that's MGS-01 as in "Moto Guzzi Sport number one."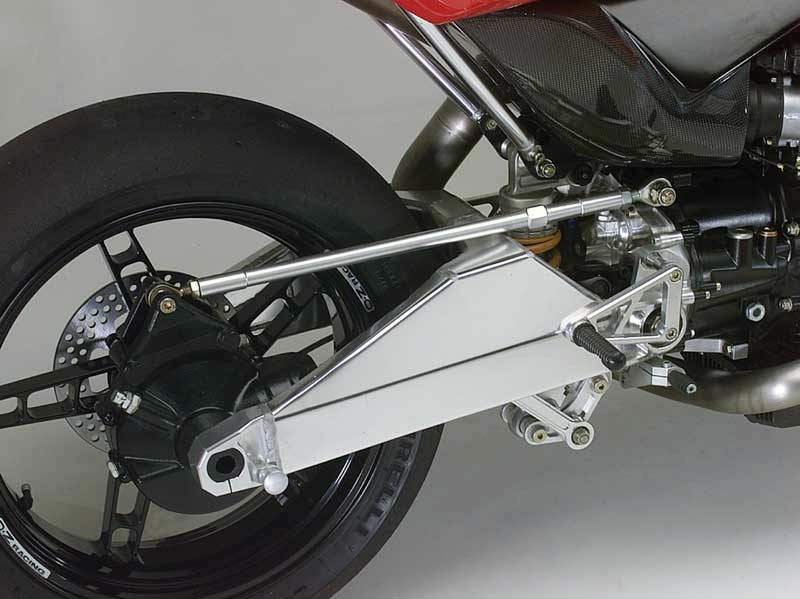 The engine is based on the eight-valve Daytona 1000 twin, with forged, 100mm Cosworth pistons bumping displacement from 992cc to 1225cc. Guzzi claims 122 horsepower at 8000 rpm for this uncorked edition. Warmed-up cams and new Marelli fuel injection should give the production Corsa another eight horses. At this point, maximum torque–all 83 foot-pounds of it–arrives at 6500 rpm. Revamped lubrication sprays oil under the pistons, while a tougher twin-disc dry clutch handles the extra output. Top-end parts will fit the standard engine, so race-spec parts can be sold as a kit.
Meanwhile, a V11 Sport-based six-speed gearbox bolts to an aluminum plate securing the swingarm pivot. That arrangement helps maintain a tidy 55.9-inch wheelbase, identical to Aprilia's Mille. Rear suspension replaces Guzzi's cantilever rear shock with a vertical Oehlins unit–with rising-rate linkage. The rectangular-section steel-spine frame is integrated with the fuel tank, and routes fresh air to a carbon-fiber airbox below the seat. Showing exemplary Italian style, the hand-welded aluminum swingarm is a work of art. The Oehlins inverted fork and single shock control beautiful 17-inch forged-aluminum OZ wheels, and the front brake combines 320mm Brembo discs and four-pad radial calipers.
The net result fairly defines exotic, pulling with uncharacteristic ferocity above 6000 rpm. That 122-horsepower number flirts with Ducati's standard 999. Heretical as it sounds, this one could hang with Bologna's best in a straight line. Even if Guzzi's newest twin won't rev like a Testastretta Duck, the big V-twin pulls capably off the bottom. The more mildly tuned street version should prove even more sociable.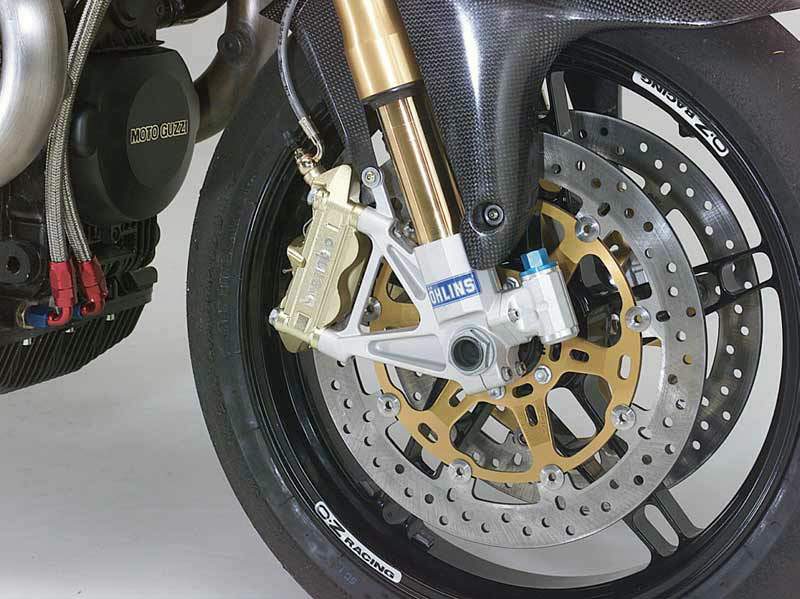 Aside from some terse on-throttle response, the Marelli fuel injection is quite precise, as is the six-speed gearbox. Adria's slow turns reveal the Guzzi's agile handling. With 23.5 degrees of rake and 95mm of trail, steering is light and quick. Maybe too light because Ghezzi will be testing milder steering geometry to add stability under hard braking. And at 423 pounds dry, the track-spec twin is reasonably light. All told, the bike is well-behaved and plenty fun to ride. There's plenty of power and feel in those radial Brembos, and inspiring traction from Pirelli's sticky Dragon Supercorsa radials.
If this first Corsa is any indication, the production MGS-01 will give those other two sporting Italian twins a genuine run for their money. To be offered in (very) small numbers in Italy next year for approximately $23,000, it will be predictably pricey. For the less affluent, an 1100cc, 100-horsepower MGS-01 "Serie" streetbike is due in October '04 for approximately $17,000. That's not cheap. But if you're a downtrodden Guzzi fan who's waited decades for some back-road respect, it's a steal.